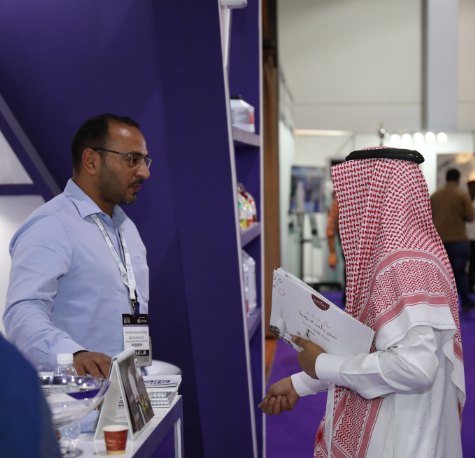 Make meaningful connections and find valuable leads
The Hotel Show Saudi Arabia is the most prestigious trade event in the Kingdom for hospitality suppliers to meet with and access thousands of active local buyers. It's the ultimate meeting place for connecting hospitality buyers with the suppliers they need for the growing number of projects in the region.
With major hospitality project announcements such as Saudi Vision 2030 and government initiatives to accelerate economic growth, Saudi Arabia is fast becoming a desirable location within the hospitality market. The Hotel Show Saudi Arabia will place you directly in front of key buyers and decision-makers of such projects including Hotel Owners, Operators and Developers.
The Hotel Show Saudi Arabia is a focal point for the industry. From GMs and owner/operators, to procurement managers, designers, and the smiling front-line hospitality teams, the event offers suppliers the opportunity to launch their brand and improve their chances of finding new business.
In 2022, we helped more than 18,000 buyers find the products they need.
Here are a few of them:
Showcasing products your buyers are looking for
"RAK Porcelain's participation at The Hotel Show Saudi Arabia 2019 was a highly successful campaign. With an overwhelming turn out at the stand, the company earned much appreciation for its new line of tableware. As official tableware sponsors of the Inter-Hotel Culinary Competition, RAK Porcelain has strengthened its brand identity in the region. The novelties include Fire, Trinidad and series from the Suggestions collection. Metal Fusion, Neo Fusion and Karbon collections also witnessed many visitors. RAK Porcelain's tableware offerings have always been market trendsetters in the hotel ware business and this year's Suggestions collections catering to the HORECA industry is receiving worldwide admiration."
DEBASHREE BHOWMICK
Assistant Manager - Marketing, RAK Porcelain
"It has been an honor to be a part of this prestigious trade event. It has been a wonderful and fulfilling experience for us with a golden opportunity to connect and network with our target market especially key buyers and not to forget our fellow industry sellers. The participation has been beneficial for the company's growth as we have met our goal to introduce our products to the Kingdom's hospitality industry while at the same time we have received a lot of appreciation for our quality and wide product range. We have got a lot of enquiries during these 3 days and we are now in a phase of sending out quotes and finalizing the deals.''
MOHAMMED YASIR AKHTAR
Marketing Manager, Gohar Textile Mills
"We just thought we would let you know that The Hotel Show Saudi Arabia – Jeddah was exactly as we expected; everything was prepared and taken care of ahead of schedule. Your system & way of communications made it easy for us as exhibitors; it was affordable and dependable as well. You have put together a great exhibition, provided valuable service, and a non-stop support prior, during, & post to the exhibition. Thanks again for a job well done. We as Delta Marketing Company, the pioneer sports and fitness equipment solution provider in Saudi Arabia looks forward to participate in next year's exhibition."
TEAM
Delta Marketing Company
"It's lovely to be a part of The Hotel Show Saudi Arabia, the show itself has name which provides an access directly to customers in Saudi Arabia and an additional advantage of being associated with different brands. We met our target audiences and also expect orders in the coming months. The show is very good from the point of view of business growth. We exhibited bed linen, towels, bath towels, face towels, bath sleepers and customized furnishing solution, which were well-received by Saudi audience. We are looking forward to exhibit in next year's show with bigger space."
FARHAN ALAM
Corporate Manager, ChenOne Stores LTD
"This year's participation of Delta Fitness in The Hotel Show Saudi Arabia marked a new milestone in the company's long and successful history. We witnessed high footfall, business leads, and interest from the exhibition's visitors toward Delta Fitness' mega booth where lots of new product lines were showcased including the latest VR cycling and ICG 8 group cycling from Life Fitness along with its state-of-the-art and unique VR software 'MyRide'. Delta Fitness is continuously raising the bar through its world class product range, and The Hotel Show Saudi Arabia has proven a good avenue for us to introduce our new lines to the world of hospitality."
ROCK MRAD
Marketing & E-Commerce Senior Manager, Delta Marketing Co.
"The Hotel Show Saudi Arabia was a success for Almarai as we signed some instant deals and collected prospective leads. We used the show to launch our Foodservice wing "ALMARAI PRO" in the Saudi market. The show attracted the types of people we were looking to introduce our product to. The culinary competition was a major highlight, where we received the maximum visibility and endorsement from the Saudi Arabian Chef's Association for our products' performance in their culinary space during the competition."
AHMED KHOLIEDY
Brand Manager - Food Service Almarai Pro
Covering the full hospitality and design spectrum
dmg events' 10+ year presence in the Kingdom and local expertise in Saudi Arabia creates a unique platform foundation for high quality and safe face-to-face connections through live events driving vital business connections and Vision 2030 objectives. The colocation of The Hotel Show Saudi Arabia with INDEX Saudi Arabia, Lighting Design & Technology Expo and Saudi Infrastructure Expo offers an excellent proposition opportunity to source, learn and network with professionals from the full spectrum of lighting, design, hospitality and project management.
Our Sponsors & Supporters